The Adept Enterprise ® Shoreline Permit Management System is an enterprise software tool that provides for the advanced management of shorelines. It is specifically designed for Hydropower Project Reservoirs licensed by the Federal Energy Regulatory Commission (FERC), Corporate Real Estate Divisions, Water Districts and the U.S. Army Corps of Engineers Lake and Recreation operations.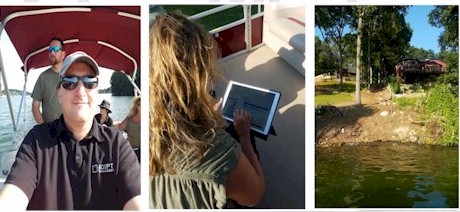 (Code Enforcement sweep by boat- What is this non-permitted construction going on?)
Adept's Shoreline Permit system consolidates your shoreline management operations and workflow processes, providing convenient, centralized access to shoreline permit and license data. Every Adept solution comes with end to end customization tailored to meet the unique and growing needs of your organization. Adept also offers Hosted Software as a Service plans for all its products, providing customers with state of the art, Secure Cloud options.

(GPS tells us where we are, select the address. Adept GIS)
The Adept Enterprise ® Shoreline Management System helps you to oversee shoreline activities and take action against unauthorized encroachments along your project boundaries. Reinforce your SMP goals by ensuring that adjacent property owners and marinas apply for permits prior to facility development and use. Effortlessly issue, track and collect penalty fees on Notices of Violation for infractions.

(Issue the Violation -yes that is a mac, we support mac too)
Adept's Clients can consolidate multiple databases into one manageable location, automate manual processes, prioritize work and cut expenses by eliminating paper-based procedures. Productivity increases and errors are virtually eliminated.
Contact us today toll free 1-888-392-9623 to find out more on how Adept Technologies can save you money by utilizing our services and technology.