Unsupported software systems: Microsoft shuts down support for Windows 8.1, upgrade to Windows 10 ends today.
New York, NY – Microsoft's Windows 8.1 is essentially a dead operating system. Microsoft ended mainstream support on January 9th. There will be no new features, or bug fixes. There is a last-ditch upgrade to Windows 10 via the Microsoft assistive technology loophole, but it ends today January 16, 2018.
All software has a lifecycle. It gets developed, released, updated, and eventually completely over written for a newer version. There is nothing to stop you from using unsupported software, but the dangers are huge.
Basically the unsupported software has no further updates, no bug fixes, no technical support, then there are the security weaknesses, and security bugs that can be exploited by hackers. We have seen ransomware attacks that are designed to target unsupported software systems. Ransomware systems like Wanncry and Petya have been very active in this field.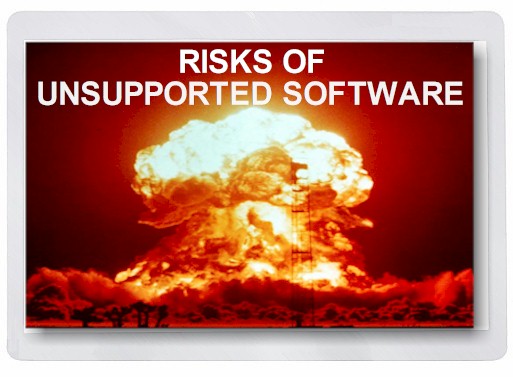 Bottom line
If your version of any software system is no longer supported, you are putting your business at risk.
Devices connected to your network are more integral to your business then you think. Which means that a virus on any device could cause a major business disruption.
Although you can believe you can accept the risk of running unsupported software, you should treat it as a temporary strategy.
Unsupported software systems will expose your corporate network to cyberattacks. The cost and resources required to replace unsupported software will be much greater then making sure your software is supported. The perceived cost and impact of an adverse event caused by the unsupported software is huge, and can possibly put your organization out of business.
If your organization has decided to allow the use of unsupported software, senior management should fully understand the risks, and they should establish a policy for preventing unsupported software on its network. Such a policy must be part of the business risk management plan. It should specifically identify resources and earmark funding to implement the policy.
What can you do?
1) Inform senior management about the risks of running unsupported software.
2) Establish a corporate wide policy for preventing unsupported software use on your networks.
3) Ensure the corporate wide policy aligns with your corporation's risk management plan.
4) Identify resources and earmark corporate funding to implement the policy.
5) Contact Adept Technologies: www.adepttech.com.
We at Adept Technologies have replaced numerous unsupported software systems in our industry.
Contact us today to see how Adept Enterprise can help your organization.
Call us toll free 1-888-392-9623